Valentines day is not as big here in Denmark as it is in the USA …
But I wish it was
I have done a non traditional Love frame for my Love to recieve on Valentines day – so don't tell him yet OK ?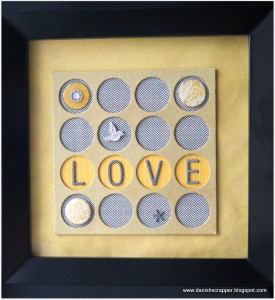 I had this piece of chipboard left over from another project – and I love to use packaging and stuff like that for new projects, so what to do…. When the word LOVE came into my mind I went straight ahead and collected some papers and glimmermist that went well together.
I sprayed the chipboard piece and some craft cardstock with lots of lovely glimmermist and let it dry.
Then I added the patterned paper to the back of the chipboard piece with my
E-Z Dots Mini Permanent
- so easy to work with !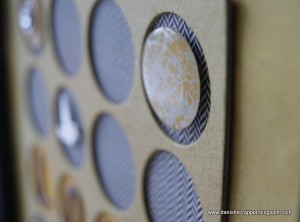 After adding the L O V E letters I also added some embellishments – used the
Epiphany Crafts Bubble caps
with some patterned paper and some
Thin 3D foam squares
to make my own adhesive "badges". A silver dove and some
Prima bling
- and my gift is ready to be wrapped